Its Tuesday and the clock is ticking..
Rasco - Global Threat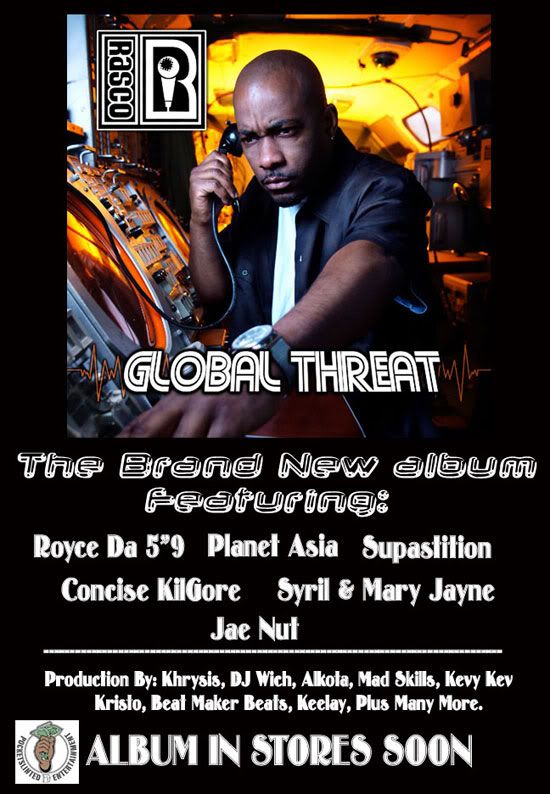 Rasco - "Global Threat" coming soon...
http://www.myspace.com/therealrasco
A dog spelled backwards. In my opinion
Rasco
is indeed hands down one of the best to come out of Cali. Personally I think Rasco has a simple flow, yet he is still one of those lyricists that will make you click that rewind button. Rasco smashes beats and leaves tracks with a triumphant feeling. His debut album "
Time waits for no man
" which was released in 1998 by
Stones Throw
is a classic. Since then hes teamed up with Planet A
sia in which the two of them then formed the hip hop duo known as "
Cali Agents
". Thankfully
Rasco
has got a new album coming soon. Originally to be released in the summer of 08' its looks as though now it is being pushed back to be released sometime in the new year (2009). His guest features will include a few favorites of mine including S
upastition, Royce Da 5'9
and his longtime friend
Planet Asia
. Also look forward to some production from the infamous
Mad Skills
. As much as this release will be a global threat for hip hop listeners its also a threat for hip hop cats who have releases coming out in 09 as well, talk about competition. Look out for this one, its sure to be a banger.
The clock is ticking....
Rasco ft Edo G - Gunz still hot